One of the best things about the Christmas season (besides Christ's birth, Christmas music, decorations, presents, and food) is CHRISTMAS MOVIES!
Here are some of my favorites:
Elf: One of the funniest Christmas movies ever with so many quotable lines. One of Santa's elves goes searching for his father and ends up in New York... And it has Zooey Dechenal (or however you spell her name) in it, and she's lovely.
Santa Clause 1, 2, 3: I haven't seen these for a few years, but I remember really enjoying them!
Home Alone: Another funny Christmas movie... a boy is left home alone at Christmastime when his family leaves on vacation without him (on accident)!
How the Grinch Stole Christmas, both versions: The Dr. Suess version is just a classic, and the new version isn't too bad either, plus it's got many a memorable face.
Charlie Brown: What holiday is complete without Charlie Brown?
Muppet's Family Christmas: A nice homage to Jim Henson's creations as the Muppets, the Sesame Street gang, and the Fraggles gather together to celebrate Christmas at Fozzie's mother's farm. As an added bonus, the Swedish Chef tries to kill Big Bird and cook him for Christmas dinner. Jim Henson even has a cameo role at the end.
White Christmas: The quintessential Christmas movie, and also one of my favoritest movies ever. My best friend growing up introduced me into a lot of the things I love now... namely: Frank Sinatra (and other crooners), musicals, the Disney Channel (okay, I don't love this now, but it was a fun time in my childhood. Ask me to sing the Hannah Montana, Suite Life of Zack and Cody, or That's So Raven theme songs and I could probably do it), Bitty Babies, and the next movie on this list. (And in return, I introduced her to God, Star Wars, Indiana Jones, Star Trek, and Imagination Land.)
Anyway... we probably watched the beginning of White Christmas together two or three times before we actually got through the whole thing (often I would have to go home before they even reached Vermont!)
Not only does White Christmas feature Bing Crosby and Danny Kaye (two epic people), but it also features a wonderful plot and some of the best song and dance numbers EVER! With a score by Irving Berlin, of course it's going to be great! (Unless you are a Klingon who has had too much Romulan Ale. "Irving Berlin...")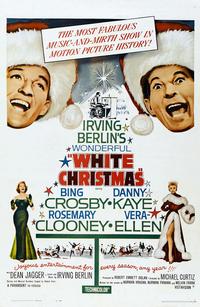 AKA, the movie where Danny Kaye CANNOT make a normal face on any of the movie covers.
"Oo-oooo"
Plus, it features the gorgeous vocals of Rosemary Clooney, and the INCREDIBLE talent of dancer Vera Ellen.
Eloise at Christmastime: This is one of my other all time FAVORITE movies. And there is nothing that gets me in the Christmas spirit more than watching it.
What are YOUR favorite Christmas movies?
P.S. Thank you all for answering my questions in the previous post! If you haven't yet, please do so! I would still love to hear from you.